Mongolian Press Delegation Visits RCEES
In the afternoon of May 31, a 47-member Mongolian press delegation led by Batkhishig Jantsmaa, the spokesperson of Mongolian Ministry of foreign affairs, visited Research Center for Eco-Environmental Sciences (RCEES), Chinese Academy of Sciences (CAS), for an in-depth look on how science, technology and innovation are supporting the sustainable development in China and how the south-south cooperation is going on.

Professor Yang Min, Deputy Director of RCEES, gave a welcome speech to the delegation. He pointed out that, as a prestigious institute in the field of Eco-Environment, RCEES is engaged in solving the problems on environmental pollution and ecological deterioration in China and supporting China's sustainable development as its mission. In recent years, RCEES has begun to made efforts in transferring its research achievements to other developing countries. So RCEES is also willing to carry out collaboration with Mongolia on sustainable development. Professor Wei Yuansong, Co-deputy Director of CAS-TWAS Center of Excellence for Water and Environment which is established within RCEES, introduced the history and the research activities of RCEES, and shared some experiences in South-South Cooperation. Thereafter, the delegation visited the simulated experimental hall of State Key Laboratory of Environmental Aquatic Chemistry and the instrumental platform of Sate Key Laboratory of Environmental Chemistry and Eco-toxicology.
Organized by the State Council Information Office, the Mongolian press delegation will pay a week-long visit in China focusing on green development. RCEES is the first stop during their visit to China. Several Chinese domestic presses such as Xinhua News Agency, CCTV, CRI, and China Report attended and reported this activity.

Speech by Prof. Yang Min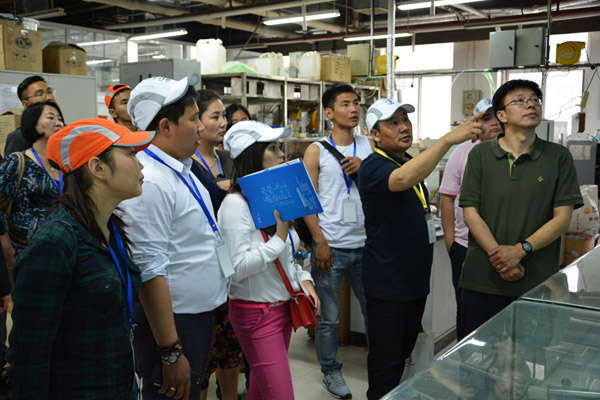 Mongolian press delegation visiting SKLEAC
CAS-TWAS Center of Excellence for Water and Environment
1st June 2016